International safety and security guidelines
Ad Hoc Travel Safety & Security Procedures design and training for a mid-size consultancy firm working in high-risk environment.
EnGreen is a consulting firm specialized in off-grid and grid-connected renewable energy systems, with solid experience in Italy, Africa and Latin America, providing technical assistance for profit and no-profit actors in the field of international cooperation. Due to the nature of the services our client offers, its staff is often engaged in international business trips in high-risk environment.
THINK GLOBAL has been appointed to design and carry out Safety and Security Procedures for international travel, customizing guidelines, tools and trainings based on the needs identified during initial assessment and kick off phase.
THINK GLOBAL has developed a complete suite of Safety & Security management tools ensuring the compliance with the state-of-art of Safety & Security policies implemented in Humanitarian settings:
Complete Safety & Security Policy
Security Tree
Communications Protocol
Repository and Information Management Tools
Training Package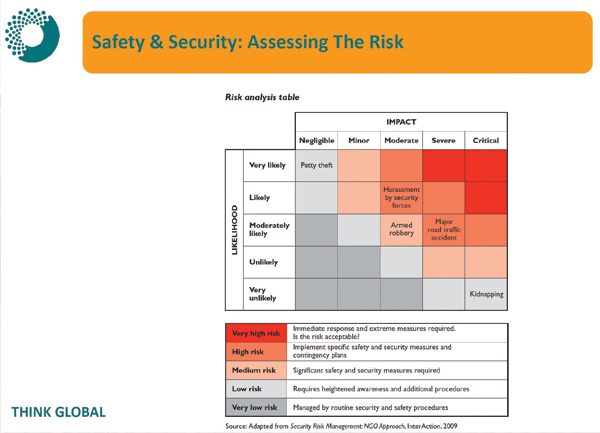 THINK GLOBAL has finally trained the client staff on the Safety and Security protocol, ensuring a period of support for the full implementation of Safety and Security measures and process.